Call 800-481-6320 to speak with an alcohol or drug abuse counselor.
Who Answers?
Understanding Detox in Drug Rehab
Most people who abuse drugs have difficulty stopping because of their fear of the withdrawal symptoms that come during the early stages of abstinence. During these early days of resistance from the use of drugs, drug detox begins to take place and although it's a necessary part of the recovery process, it's a painful and difficult part for many drug addicts to cope with. The process of detoxification in drug rehab is the point in which the patient stops using drugs and the body begins to detoxify ridding itself of harmful toxins that result from the drug abuse.
Some cases of drug detox are easier than others. For instance, an individual who abuses marijuana may find it rather easy to detox while an individual who abuses opiates such as prescription painkillers may find it much more difficult to detox and could suffer much greater withdrawal symptoms. The drugs that are being removed from the body, the length of time that these drugs were used and various other factors figure into the length of time that it takes to detox in drug rehab as well as the severity of the withdrawal symptoms and potential complications which could occur.
When drugs are abruptly removed from the system, there is a risk of shock or other complications occurring. These risks are much higher for those who use opiates such as heroin or Oxycontin or for those who use certain prescription medications such as Xanax or Valium which have a very high likelihood of causing physical tolerance that is difficult to treat. Most of the time, the symptoms of withdrawal from any drug will begin to show within the first 24 hours of abstinence from that drug abuse.
Every drug detox situation is different but some of the most common withdrawal symptoms that are present during detox include:
Depression or anxiety
Fatigue or jitters
Agitation
Sweating or cold sweats
Nausea and vomiting
Shaking or tremors
Hallucinations
Muscle or bone pain
Stomach problems
Convulsions
Heart attack or stroke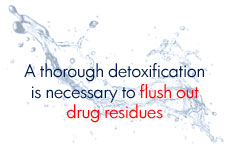 Detox treatment includes a number of different methods used to control cravings, reduce the effects of withdrawal and make the entire process of getting past physical drug dependence easier to cope with. Depending on your health, your addiction, and your ability to detox, medications, therapy, and other methods of treatment may be included to help with the detoxification process.
Some of the most common medications used in drug detox include:
Buprenorphine
Naltrexone
Suboxone
Methadone
Acomprasate
These will depend on your individual needs and various other factors associated with the detox process. If you still have questions or concerns about detox, you can call to talk with a treatment or rehab specialist by calling 800-481-6320Who Answers? who understands the process and can answer more detailed questions pertaining to how detox is expected to go for your individual addiction. Remember that counselors can answer questions but the actual details will still vary from one patient to the next based on health and individual circumstances beyond the scope or control of the rehab professional.